Customize your shipping container
Whether you need a workshop container, an office container, or a classic shipping container contact Custom Cubes to customize your shipping container.
Accessibility of a Container

A number of options are available when it comes to moving in and out of your custom container. Personnel doors are small entryways (3'0" x 6'8") which make it easy to enter and exit your workspace. These doors also help maintain comfortable temperatures and can be equipped with lock boxes for extra security. Roll-up doors are an additional option. These doors come in various widths ranging from 4′ to 16′ and offer a great way to save space while maintaining security.
Acclimatization with the help of the containers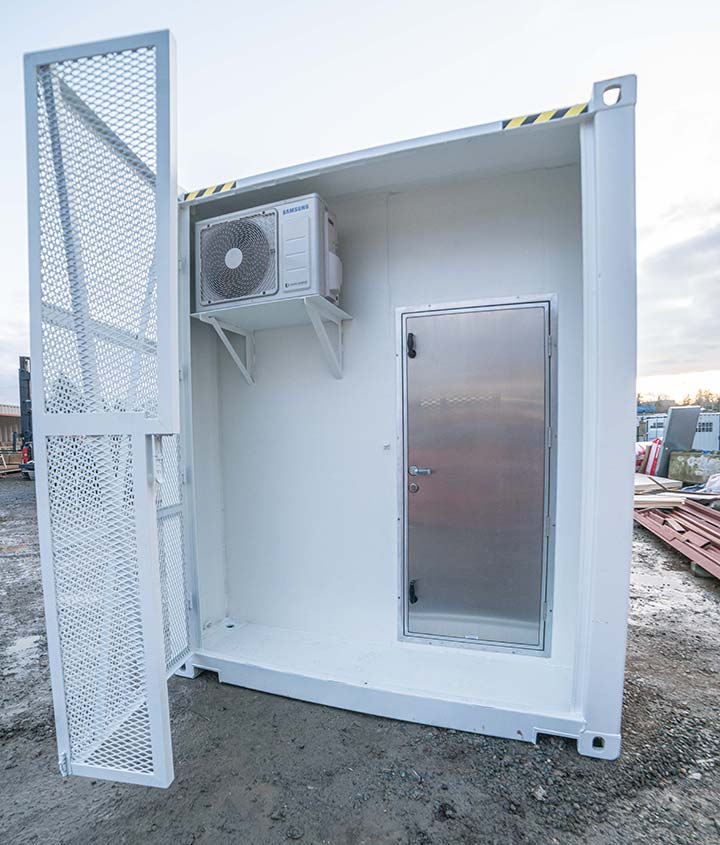 Our custom containers have a selection of options that make them suitable for any weather conditions. Standard windows (3' x 4') can easily be installed but we are more than happy to quote whatever custom size you have in mind!
Ventilation is key in allowing for consistent airflow, maintaining temperature and humidity limits, and potentially for fumigation. Vents of various sizes can be installed in your container.
Insulation is absolutely necessary for maintaining the internal temperature of containers. We provide various kinds of insulation including spray foam on the walls, ceiling, and undercarriage.
The foam used is water and mould resistant increasing its staying power while also bolstering the structural stability of the container. Spray foam also reduces the risk of condensation. A number of liner and insulation packages are available based on the necessary fortitude of your container.
Finally, we also provide options for heaters and AC units which aid in maintaining an even more accurate internal temperature, giving you the impression of the value of a Customized shipping container.
Container's Interior Design
Paneling and interior lining of containers can aid both functionally and aesthetically. We host a number of lining options such as drywall, plywood, vinyl and more.
Additionally, we provide a series of flooring options with our most popular being vinyl plank. As well as lining options, we have a plethora of electrical options which range greatly depending on the specific needs of your custom project!
Exterior Design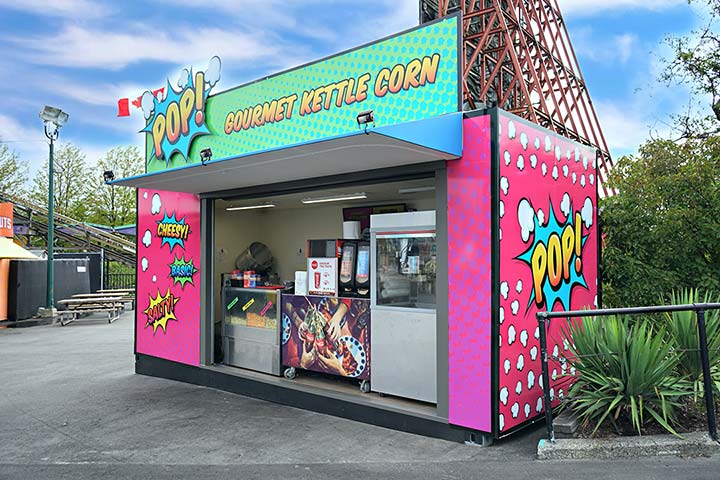 Exterior presentations can be crucial to creating an eye-catching container. For this purpose, we can create containers painted with high-quality, durable industrial paint, in any colour. If your exterior vision holds a lot of details then working with our team to design a vinyl wrap may be a good option for you.
Let us help you!
There is huge variability in terms of what may be necessary for your container based on its intended use. Working with our experts will help you decide what's needed to complete your project, but it's crucial to know all your options.
For this purpose, we provide an exhaustive list of modifications and accessories which are all available for installation in your workshop custom container.
If you require something more specific installed in your container and it is not listed below, don't worry.
Contact us and we will work with you to satisfy your demands.