Ultimate Guide to Buy a Shipping Container
Also known as freight containers, ISO containers, storage containers, Conex boxes, and sea cans among other things, shipping containers have slowly transitioned from their original industrial use purposes to a multi-functional tool for people from all walks of life, and we are here to help with the Ultimate Guide to Buy a Shipping Container. Chances are you have come across shipping containers at many points in your life, but perhaps you didn't know what they were or realize how useful, affordable, and available they are to you.
Made of corrugated weathering steel, these containers are built to last – boasting both incredible strength and weather resistance. Through decades of use and exposure, shipping containers around the world have proven to hold up to virtually all-natural disasters. Combined with their versatility and ease of transport, these tools of the industry have become a go-to for businesses and individuals across the globe.
Why use a shipping container?
Durable, storage containers are steel boxes meant to endure the harshest of weather conditions. Over time, they may rust or dent, but some wear and tear are normal.
Safe, for both you and whatever is inside. Their steel construction is virtually impenetrable from both everyday forces and natural disasters. This all but guarantees to keep whatever you have inside secure.
Affordable option for many of the tasks they are assigned. The cost of an individual shipping container will typically range between $3,000 and $5,000, with the price varying based on delivery and if the box is new or used. On either end of that spectrum, though, it becomes more cost-effective to buy a container than rent it if you plan on using it for more than a year or two.
Who can use shipping containers?
In short, everyone can use shipping containers. Since making the jump from big industry and global transportation, more and more people are finding ways to add value to these large steel boxes. Because of their simple design, you can use them for virtually anything and in recent decades we have witnessed some impressive creativity when it comes to putting shipping containers to use. To best understand how to make the most of a shipping container, it is helpful to break down their use into three categories: industrial, commercial, and residential.
Industrial: Shipping containers have been used industrially since they first emerged on the scene and remain incredibly useful to this day. Examples of industrial use include the storage of large machinery, materials, equipment, and waste for agriculture and construction. They can also be used as temporary offices on work sites or for disaster relief shelters and staging following a crisis situation.
Commercial: From a commercial standpoint, shipping containers come in handy as easy additional storage and workspace. Many commercial and retail outlets will use these containers to store seasonal or excess inventory and as showroom space. Additionally, storage containers are a great option for the workplace that doesn't want to completely shut down while going through construction, remodelling, or a big move.
Residential: Finally, shipping containers have proven incredibly versatile in a residential setting. We have seen homeowners use these containers for additional storage in their yard, an at-home workshop, seasonal storage, moving or remodelling storage, as underground bunkers or, perhaps most impressively, as a container home in and of itself! With a little bit of creativity, the opportunities are endless.
What is the purpose of buying your shipping container?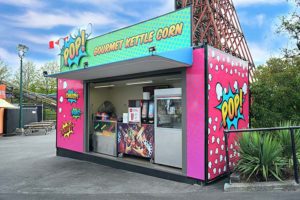 Shipping containers are increasingly being re-used for Commercial and Residential purposes. While sending empty shipping containers back to where they originally come from is costly, it is often interesting to invest a couple of thousand dollars in a homeless container.
The recycling of sea cans AKA shipping containers is the perfect way to reuse materials while building beautiful and unique structures. Shipping containers have great benefits such as Wind & Water Tight, All Steel Construction, Security and Portability. This is why they are great the following purposes:
Storage: an ideal storage solution for your overflowing warehouse or expanding storage needs
Office: shipping containers can accommodate everything you would find in a conventional office.
Workshop: if you have a small or medium company, and need to bring tools, benches to the construction sites. If you are an artist or a craftsman person who needs extra space at home. For all cases, a custom shipping container may be a great solution for you.
Food Stand, Bar

:

because it is easily mobile and can be well designed, sea cans can be the best option for a pop-up bar or food stand.
Event: the plethora of customization options make these containers the ideal selection for festival booths
Above are only a few possibilities but you can also have a complete custom project in mind. In that case, you will probably need the help of a professional if you are in Vancouver, BC areas we can help you create your personal project from start to finish.
Choose the size of Shipping Container you want
Shipping containers come in many sizes from under 7′ to 40′ long. That being said, most of the containers available are: 20′, 40′ or 40′ HC (High-Cube). High-cube containers are 1 foot taller than the standard ones. There are other sizes such as: 7′, 8′, 9′, 10'… You will most likely find those formats for custom projects.
Here is some information about the exterior and interior dimensions of most used shipping containers:
20′ STD: Exterior Dimensions: L-20' x W-8' x H-8'6" | Interior Dimensions: L-19'4" x W-7'9" x H-7'10"
40′ STD: Exterior Dimensions: L-40' x W-8' x H-9'6" | Interior Dimensions: L-39'6" x W-7'9" x H-7'10"
Keep in mind when choosing a size:
20′ containers can be moved easily using a standard forklift capable of lifting 2300kg / 5000lbs.
40′ containers can only be moved by a crane or a special heavy-duty container forklift/stacker.
20′ containers also fit on the bed of standard tow-trucks. Making it more economical to move vs a 40′ sea can.
Choose the Container's condition
Shipping containers typically have two grades:
1-Trip (New) these are basically new containers that are sent overseas from the manufactures' factory to your local port.
Used Shipping Containers are used containers that may have rust. You can find them for a really good price.
The Modifications and Accessories
Now that you know the purpose, size and condition of your shipping container, you should think about the modifications that will need to be done. At Custom Cubes we specialize in modification of new and used shipping containers. If you dream it, we can do it.
When it comes to shipping container customizations it's almost endless, we've listed some of the most important below, we hope it will give you some inspiration for your project:
Doors & Windows: roll-up & garage doors, personal door, different sizes of windows.
Acclimatization: Insulation is absolutely necessary for maintaining the internal temperature of containers, this is why you should always spray foam the walls, ceiling and undercarriage. To make the space more comfortable you should also consider installing electrical outlets, vents, heat, air conditioning, plumbing…
Interior Design: you can find many lining options such as drywall, plywood, vinyl and more. Framing, divider walls, drywall or plywood sheeting, shelvings, paint, flooring, awning
Exterior Design: Exterior presentation is crucial to creating an eye-catching container. For this purpose, we can create containers painted with high-quality, durable industrial paint, in any color. If your exterior vision holds a lot of details then working with our team to design a vinyl wrap may be a good option for you.
Security: Padlock, window guards
If you have other modifications or accessories that are thinking about but you are not sure if it is possible to install you can always Custom cubes for any further information.
What is your budget?
The price of a shipping container can vary according to its age, type, and condition. However, we will find below some estimates to give you a rough idea of cost.
If you have a project in mind in Greater Vancouver we can help you build your own shipping container.
Prepare your site for the drop-off
Give enough space for the delivery driver to drop off your shipping container.
The area will need to have enough room to allow the delivery truck to drive in, drop the container and go away:
Typically for a 40′ container, the minimum distance would be: 20′ for the truck, 40′ for the trailer and 40′ for the container, that means 100 foot in total.
For a 20′ container, it becomes 50′ to 60′ total distance.
In general, shipping containers are loaded with the doors facing towards the front of the delivery truck. Make sure you know where you want the shipping container doors to face.
Maintain airflow under the container if your are using it for outside. You want to make sure the container floor will stay dry and the steel structure rust free. Think about elevating your shipping container in the 4 corners with: wood, tires, special caster (wheels) that lock into container corner fittings.
Looking for a shipping container in Greater Vancouver Area?
If you are looking for shipping containers in the sale check all our shipping containers. If you are looking for a custom shipping container we can also help you! Contact us!