USE FOR STORAGE SHIPPING CONTAINER
All over the world, people have discovered the ease, convenience, and sensibility of using storage shipping containers for their personal or commercial projects. At Custom Cubes, we have built our business and reputation on providing the best and most affordable shipping containers for all types of ventures. If the idea of renting or purchasing a shipping storage container seems strange to you, have no fear! Below are five popular ways people are making use of shipping containers this very moment!
Mobile Storage Shipping Container for Construction Sites

Major construction sites are always in need of indoor, secure storage. Because of their affordability, shipping container storage provides the perfect answer. Many of the biggest projects need offices on site as well and, again, shipping containers are the ideal solution. Similarly, many restaurants and retail spaces have made use of shipping containers during renovations and seasonal changes to maintain efficiency in times of change!
Shipping Containers for Moving
People undergoing big moves have often testified that renting a shipping container was the best decision they made over the course of their adventure. Whether move-in/move-out dates don't line up or you are moving to a new city or town and have yet to find a permanent residence, shipping containers can solve all of your problems. You can simply have one delivered to your current home, pack it up, set your desired date, and have it delivered to your new home when ready! This affordable option also allows you the most flexibility in moving.
Shipping Containers for Home Improvement Projects
No matter the home improvement project or renovation, it will undoubtedly have an impact on your home until completed. To limit the impact on your day-to-day life, rent a storage container to keep on the property so you can clear all furniture and belongings out of the project area. This will prevent your renovation from spilling over into the rest of your home and allow all workers to complete the project in the most timely, organized, and efficient manner.
Container Homes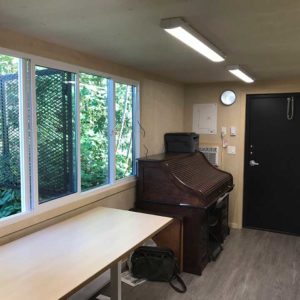 This one is best reserved for the more eclectic, but over the past couple of decades, an increasing amount of young people have been using their creative minds to transform shipping containers into container homes. By stacking, insulating, and modifying a standard shipping container people have been able to create comfortable, unique, and beautiful homes of their own!
Shipping Containers for Decluttering and Downsizing
Whether you have moved to a smaller home or are just aiming to declutter yours, shipping containers can be the perfect answer to eliminating your stuff. It can be difficult to throw away or donate items with sentimental value but, at the same time, these items have a tendency to pile up and create clutter over time. Instead of having to say goodbye, how about getting a storage container and creating an organized place to keep your belongings that doesn't overwhelm your living space?
The experts at Custom Cubes have worked with people from all backgrounds making their moving, storage, and home improvement need that much easier. If you are anticipating an upcoming project where a storage container could be utilized, give us a call! We are always eager to work with potential clients to see how we can help!